Süleyman Adahi Sahin, MSc, from the Sakarya University of Applied Sciences, Türkiye will give a presentation at FVV on November 17th. He will talk about his research titled International Communities and Daily Travel Mode Choice: A Preliminary Example of Vienna. Every community has different behaviors according to their cultures. The background of culture is not limited to traditions or daily routines. Unconsciously, habits may also leave strong impacts on travel behaviors from time to time. Here, we invite you to join us to understand how this and other situations play a role in our daily transportation mode choices.
Due to room capacity, we kindly ask you to book in advance by emailing da.yun@tuwien.ac.at.
We look forward to seeing you at the seminar!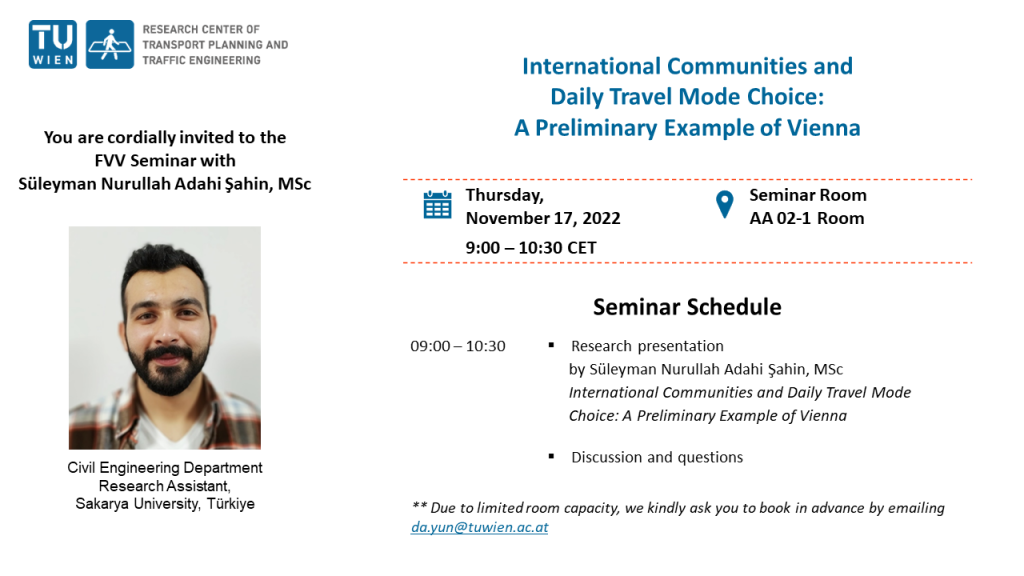 Bio: Süleyman Adahi Sahin, MSc, is PhD candidate and Research Assistant (equal to University Assistant) in Civil Engineering Department at Sakarya University of Applied Sciences. His research interests are: traffic engineering, transportation planning and policy, highway engineering, micromobility, sustainable and intelligent transportation systems. He assists in some lectures such as Transportation, Technical English, and Technological Civil Engineering Applications. Süleyman Adahi Sahin has scientific papers titled Urban Mobility in Covid-19: How We Adapted to Change and How Should We Respond (2020) and conference paper The Effect of Pawma Addition on Bitumen Viscosity, Penetration and Softening Point from Warm Mix Asphalt Additives (2019). He wrote a chapter called Investigation of the Performance of Warm Mix Asphalt Additives on 50/70 Penetrated Bitumen and Pre-cost Study (2021) in the book RILEM International Symposium on Bituminous Materials. Currently, he is working on disadvantages groups on transportation policy, sustainable mobility, urban transportation, with conference papers to publish and research articles in the review process on these topics. Starting from next April, he will work as a guest researcher at UTP Erasmus University Rotterdam. In addition, he is also working on establishing a project team called TransportLAB in Turkey as a co-founder.